Whether you look forward to going to Tractor Supply (TSC) or not, bringing your dog with you to the store makes it a little more interesting.
Stores that allow you to bring in your dog with you give you a chance to socialize your puppy.
With the recent rise in dog-friendly stores, many people are concerned about the dog policy at Tractor Supply.
Do they allow dogs? Yes, they do!
Most animal lovers tend to think that they have the best and most well-behaved pups on the block, so they bring them with them for shopping, even in stores they aren't allowed.
It is important to clarify your specific store's dog policy before taking your precious animal with you for shopping.
Are They Dog Friendly?
Tractor Supply has been inviting dogs and their owners into their stores for over 80 years.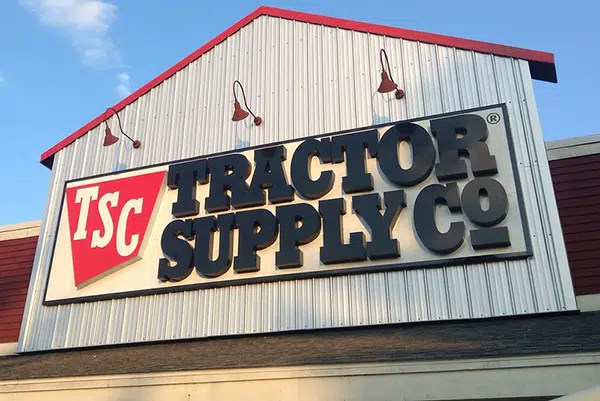 As of June 2020, they have stores in 49 states and their dog friendly policy is the same in all states.
It's important to dog owners to be able to bring their dog into the store.
Especially when there are going to purchase something for the dog.
If the owner is looking to purchase a kennel, crate, dog house, animal barrier or a dog carrier, the owner needs to make sure they are purchasing the correct size, no one wants to haul a big kennel or any large, heavy of bulky item back to the store.
If they bring their dog with them, they can make sure they are getting the right size before they leave the store with the product.
Of course, they do expect your dog to be well-behaved and on a leash.
Can you wash your dog at Tractor Supply?
Here's a cool thing that TSC offers, you can actually get your dog washed at your local store.
They have a pet wash station where your pup can get a head-to-tail bath complete with professional-grade grooming equipment and products.
And, it's only $9.99!
You can check on their website to find a location near you.
And you do need an appointment for the dog wash service.
TSC PetVet Clinic
The PetVet clinics are in the Tractor Supply stores, not every store has a clinic, and the days of the week and hours vary for each store.
They offer vaccinations, microchipping, and flea and tick medications.
You do not need an appointment and the fee is minimal.
TSC Petsense Stores
Tractor Supply has opened 180 Petsense stores in 25 state, as of June 2020.
This store carries pet supplies for dogs and cats.
They also hold pet adoptions. They also offer dog and cat grooming services.
Community Events
Tractor Supply is well-known for their love of animals.
In 2018 they began an annual event called "Out Here with Animals" it recognizes animals, pets, their owners, and the people who take care of them.
The event has several benefits it helps owners learn the proper nutrition needs and general care for their pets.
They do fundraisers and pet adoption events.
They also do pet treat tasting and giveaways.
They are also involved in a program called "paws4people" they are the authorized dog food sponsor.
They provide food for over 500 service dogs for veterans and children.
Official Dog Policy at Tractor Supply
If you look on their website, you won't actually find an official policy on bringing your pet into your local Tractor Supply store.
That being said, they do allow dogs in the store as long as they are on a leash and well-behaved.
And just to show you how dog friendly TSC stores are, they cashiers keep dog treats at the checkout registers so that they can give one to any dogs that customers bring into the store.
As you can see, the unofficial official policy is that all dogs are welcome in Tractor Supply stores.
Does It Vary By Location?
No, it does not. All Tractor Supply stores are dog friendly.
And all of them have treats for your pup when you check out.
So, you don't have to worry about taking your pup into a new location and getting denied entry.
Just remember to make sure that your doggo is on a leash and well behaved.
Summary
As you can see, Tractor Supply stores are a great place to shop with your dog in the store.
Not only to all locations welcome dogs in the stores, but your dog will also be given a treat by the employee.
But, if you're still worried, then you can always call your local TSC store to double check on their dog policy for that location.