If you've recently become a new mom or dad to a playful little pooch then I'm sure you're very aware of how puppies tend to explore the world with their mouths.
Whether it's your favorite pair of shoes, or your antique furniture collection if it can be chewed it most likely will be.
Something natural to canines can often be quite frustrating for you, the owner, especially when it's your home in the firing line.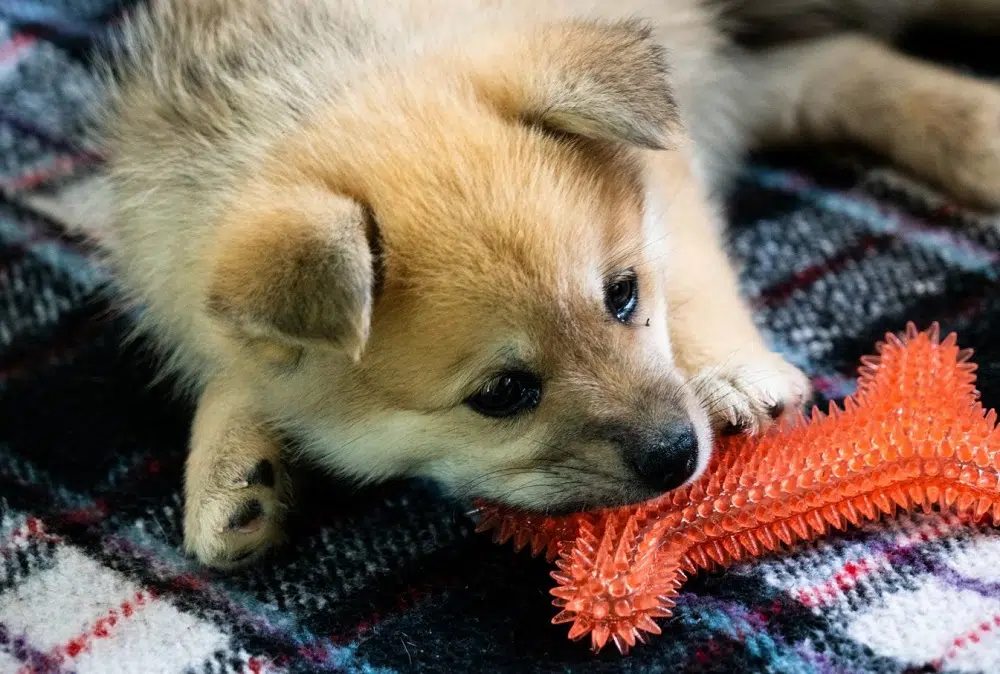 But keeping them occupied and their brains stimulated is key to stopping them from sinking their teeth into your belongings.
This is where having a variety of chew toys designed especially for your puppy will come in handy.
When it comes to choosing the right toy for your dog, it's good to bear in mind their size, weight, chewing capability, and also personality, all of which are important factors.
You may also want to consider how aggressively your dog chews as this will determine the type of toy and material that best suits their nature.
Some puppies may want to nibble on their favorite soft toy, while others may find pleasure in ripping it to shreds.
In this case, a toy made from something more robust would be more suitable for your pooch.
Chew toys are great fun for your dog and also help to reduce stress, anxiety, boredom, and loneliness.
They are also great for teething puppies as they keep their teeth and jaws in tip-top condition as they transition from a young pup into a young adult.
So, which toys are the best ones to keep an eye out for?
We've picked our top 3 chew toys guaranteed to put a smile on your puppy's face and keep you from having to replace destroyed family heirlooms anytime soon.
Best Chew Toys for Puppies
Typically found in most dog owners' homes, this KONG natural teething rubber toy is a high-quality brand that is loved by owners and pets the world over.
If you have a dog that is full of energy and loves to get their gnashers around whatever they can find, then this toy should be your number one choice.
Not only is it a fun toy for your pet to play with, but this toy is also incredibly durable.
Its tough rubber formula puts up an impressive fight against the toughest of jaws and the shape of the toy allows for erratic bounces, guaranteed to excite your playful pup when it comes to playing fetch.
It's also a great toy if you have a pet that suffers from separation anxiety.
With a hollow center, you're able to fill the toy with peanut butter, puppy Kibble, or any of your dog's favorite flavors to keep them distracted when they are left alone.
A great tip is to freeze a stuffed KONG toy for up to 4-6 hours before giving it to your puppy, which will keep them interested in it, and its filling, for even longer.
This toy is also a great choice for teething puppies as it's been designed to meet the needs of a puppy's 28 baby teeth.
Teething typically happens at around 4 months of age, which can cause your dog to suffer from super sore gums.
When this happens, it can seem like your puppy is obsessed with chewing anything and everything in sight.
Introducing this toy to your pet is a great way to reduce the discomfort of sore gums and helps teach appropriate chewing behavior while satisfying a younger puppy's instinctual needs.
This toy is also dishwasher safe so it's incredibly easy to keep clean and free from any harmful bacteria that may upset your little one.
With a range of these products suitable for your pet no matter what their age or chewing capabilities, this product is a great choice of chew.
With the larger chews being slightly more on the pricey side, you may be tempted to choose one of the many cheaper replicas on the market.
However, if you do, you should prepare yourself for lower quality and durability.
Pros
Durability –

Made from a high-quality rubber formula.

Vet recommended –

Veterinarian and trainer approved.

Dishwasher safe –

Easy to clean and keep free from harmful bacteria.

Hollow center –

Perfect for filling with your puppy's favorite flavors.
Cons
Dog size –

Smaller products in the rage aren't suitable as your puppy matures.
KONG - Puppy Toy Natural Teething Rubber - Fun to Chew, Chase and Fetch - for Medium Puppies - Blue
Appropriate Chewing: The KONG Puppy soft rubber formula is customized for a growing puppy's baby teeth and gums. This gentle, but long-lasting toy helps satisfy instinctual needs and provides mental stimulation. By encouraging healthy play and satisfying instinctual needs, this treat-dispensing puzzle toy helps solve chewing, separation anxiety, teething, boredom, weight management, crate training, digging and barking
Fetch Toy: The KONG Puppy's unpredictable bounce makes for exciting games of fetch and other interactive play with your pet. This is a fun way for beginning chewers to get the exercise they need and expend excess energy
Great For Stuffing: The stuffable KONG Puppy is even more enticing when treat filled with bits of puppy kibble, peanut butter, KONG Puppy Easy Treat, Snacks or Ziggies. Dishwasher safe for easy clean up. Bonus: For an added challenge, freeze stuffed KONG for 4-6 hours before giving to your puppy
Vet Recommended: Veterinarians and trainers worldwide recommend the KONG Puppy as one of the best durable puppy toys available
Made in the USA. Globally Sourced Materials
Last update on 2023-01-28 / Affiliate links / Images from Amazon Product Advertising API
Looking for a toy with more than one use? This NWK toy for puppies is your answer.
Not only does it allow your pet to chew until its heart's content, but it also helps cool them down on a hot day as well.
Perfect for teething puppies, this strong plastic ring will help soothe any pain they may be experiencing thanks to its clever design to massage gums as they gnaw away on it.
As well as helping to relieve pain, this boredom-busting ring also cleans your tiny friend's teeth so you can sit back and relax knowing that your dog's dental health is being taken care of.
Designed to be popped in the freezer, this toy provides relief on those hot summer days and is a must-have for any pooch that struggles in the sun.
The plastic ring is also designed to float even when frozen, so if your hound is a water fan they'll no doubt love taking this toy into the rivers and lakes with them.
Just like any playful puppy owner, you sometimes need to keep them distracted so you can have some time to yourself.
This toy is a great way to do that!
The 'X' shaped holes around the edge can be filled with your dog's favorite treats so keeping them distracted has never been easier.
If your pup is an aggressive chewer, this toy may not be the right choice for them.
Although it is durable and has a new design that incorporates a thicker plastic ring, you may still need to keep an eye on its rigidity after 3 months of chewing.
Filled with 100% purified water and made from non-toxic materials, you can sit back and relax in the knowledge that this toy is safe and harm-free for your dog as well as being 'Pets Radar' approved.
Pros
Dental health –

Keeps gums and teeth healthy and clean.

Suitable for freezing –

Perfect for a hot Summer's day.

Treat friendly –

Keeps your dog distracted for longer.
Cons
Durability –

Not as tough as some other chew toys.
Sale
NWK Pet Teether Cooling Chew Toy for Dogs Teething Toy for Puppies, Fit with Treats for More Fun (Chewing Ring)
After a few hours of freezing, the frozen dog teething toy has a suitable low temperature to keep your dog cool in the summer heat.The freezable design let your dog enjoy the coolness when feeling hot to play.Relieving the dogs laziness performance and enhancing appetite.
About this item Made with non-toxic material, filled with 100% purified water. Thicken outer design makes it more durable for dog chewing.
Extra benefit in dental care, healthy growth of dogs and puppies bones. And cleans dog's teeth and massage dog's gum during their play time. Healthy growth of dogs and puppies bones.
Stress relief toy, control and reduce dog's destructive behavior, help solve chewing, separation anxiety, teething, boredom etc,.
Last update on 2023-01-28 / Affiliate links / Images from Amazon Product Advertising API
These adorable soft chew toys, available in a range of different animals, will most definitely make the cutest addition to your puppy's toy basket.
Made from natural cotton and soft plush, this toy helps protect your puppy's gums while also remaining strong enough to satisfy your dog's nibbling needs.
Even though it's a softer chew toy than others, don't let that fool you into thinking it won't last long.
The inclusion of woven cotton legs adds extra durability, so if tug-of-war is your dog's favorite game, this toy is a winner.
The comfort feel of this toy is great if your puppy suffers from anxiety, stress, or boredom when left alone.
We all want something to cuddle up to when we're feeling down and this toy certainly helps with that.
With a waterproof layer inside to prevent saliva from soaking through to the stuffed cotton, this toy can easily withstand a lengthy chew.
It's also machine washable, so if little Milo decides to introduce his favorite new toy to the garden, then fear not.
With a quick spin in the machine, it'll be mud-free in no time.
Does your dog love to make noise?
If so, this Sedioso choice delivers.
With a built-in squeaker, your dog will be kept entertained for hours on end.
You, on the other hand, may have to invest in some earplugs!
Pros
Machine Washable –

Easy to keep clean.

Squeaker –

To keep your dog entertained.

Plush surface design –

Protects gums and cleans teeth.
Cons
Chew Proof –

This toy isn't suitable for larger, more aggressive chewing dogs.
Last update on 2023-01-28 / Affiliate links / Images from Amazon Product Advertising API
Buyer's Guide
With so many chew toys now available it can feel almost overwhelming when choosing the perfect chew toy for your puppy.
Is soft and snuggly the better choice, or should I buy something more durable?
With so many factors to take into consideration, we've put together this buyer's guide that will help you figure out exactly what to look for when treating your puppy to their favorite new toy.
Size and Texture
Even as puppies the strength of each dog varies.
What is suitable for a Great Dane won't be suitable for a Yorkshire Terrier.
The right size toy is very important and needs to be appropriate for the size and strength of the mouth that will be chewing it.
For a larger puppy with a bigger jaw, something more robust and made from a stronger material, such as plastic or rubber, would be ideal.
For smaller puppies, a toy made from something softer would be better suited as the strength of the jaw won't destroy the toy.
Both of these options will still teach the puppy good chewing behavior as well as provide comfort when teething.
No matter the texture, whether it's made from plush, woven cotton or hard rubber, the more your dog plays with it, the healthier and cleaner their mouths will be.
Toy Types
Each dog has its unique personality, and with the huge variety of chew toys on offer, you're bound to find one to match your pet's needs.
Treats
Some chew toys, as well as being great to chew on, also allow you to hide your pet's favorite treats inside of them.
Not only is this great for your pup who is eventually rewarded for their hard work, but it also keeps them entertained and focused for a long period.
These types of toys are usually made from a hard rubber or nylon material so are very durable even for the strongest of jaws.
If your dog is the clever kind, this type of toy usually works best for them as it challenges them and tires them out mentally as well as keeping their chewing habits healthy.
Balls
Ball-shaped chew toys are great as there are so many to choose from.
Tennis balls, rubber balls, plush balls, squeaker balls… the list goes on!
As well as providing your dog with something to nibble on, a chew ball also encourages your dog to become active and allows you, the owner, to become more involved with playtime.
With different sizes available for different puppies, these chew toys are always a firm favorite.
Just remember to check the durability of the toy before purchasing or it could be ripped apart in minutes if it's too fragile for your pet.
Tug Toys
Tug toys are a great choice for any puppy as most dogs enjoy playing tug-of-war with their owners.
Typically made from woven cotton, you'll find these toys are extra durable and last for quite some time.
However, the moment any material breaks is when you should replace the toy, otherwise, it could pose a safety risk to your pet.
If you do invest in a tug chew toy for your puppy, remember not to be too aggressive when playing.
Any strong pull on the toy may contribute to them losing teeth or damaging their jaw.
Frequently Asked Questions
Which chew toys are bad for puppies?
If your puppy is a vigorous chewer then it's best to avoid anything that can be swallowed.
Larger dogs have been known to easily destroy and swallow pieces of thin, squeaky-like, rubber toys so it's best to go for something more robust.
Toys with rawhide have also been known to cause intestinal obstructions so it's either best to avoid altogether or check with your vet before giving it to your puppy.
At what age do puppies stop chewing?
The desire to investigate fun-looking objects paired with the soreness of teething is normally the reason why puppies tend to chew things.
When their adult teeth appear, the intensified chewing phase normally eases, which is usually around the 6-month mark.
However, once a chewer, always a chewer!
Even an adult dog appreciates a new chew toy from time to time.
How to Use Kong Toys to Help Enrich Your Dog's Life (And Improve Behavior)