Want to take your Frenchie on some car rides or maybe on a road trip, but not sure how it will do in the car for the ride?
Do Frenchies like car rides? Yes, some do, while others hate it – but you can train your Frenchie to love it.
Below we'll give you some tips on making your French Bulldog love riding shotgun with you on trips to the store as well as trips out of town.
Preparing Your French Bulldog For A Car Ride
You've probably seen those dog owners who drive holding their pup in their lap – don't be this irresponsible because it is dangerous for you and your dog.
Just think what will happen to your Frenchie if you're in an accident while holding him in your lap – it won't be good.
Don't Feed Him Too Close To The Drive
A real risk of taking your French Bulldog on a car ride is that he can get sick in the car.
To reduce the chances of this happening, don't feed him right before you put him in the car.
Instead, try to feed him a good three to four hours before the drive.
Here are the signs of car sickness in your French Bulldog:
Shaking
Hiccups
Whining or whimpering
Drooling
Dry heaving
Lots of lip licking
If you notice those signs, then it's a good idea to pull over and let your dog outside so that the canine nausea goes away.
Walk Him Right Before The Car Ride
Two things that you don't want to happen in the car – a hyper Frenchie and a Frenchie who needs to go to the bathroom.
To prevent this from happening, try taking your Frenchie on a nice, long walk before the drive.
This has the double benefit of getting a potty break and tuckering him out so that he won't be hyper on the ride.
You'll find that this is especially important when you take your Frenchie on a road trip.
Use Dog Booster Seat
To keep your pup safe on a car ride, we recommend getting a doggie booster seat to keep your pup safe and secure.
There are lots of models out there to choose from, but we're big fans of the K&H Pet Products Bucket Booster Dog Car Seat.
You can buy this awesome dog car seat for Frenchies at:
Keep Hime Safe With A Safety Harness
Most dog booster seats, like the one above, are designed to work with a safety harness and seatbelt.
You definitely need to use a safety harness in the car with your French Bulldog to keep him safe in the event that you're in an auto accident.
We recommend the Pawaboo Dog Safety Vest Harness at Amazon.
Take A Water and Collapsible Travel Bowl
You'll want to make sure that you have plenty of water for your Frenchie to drink while out on your car ride or road trip.
We recommend keeping some bottles of water in the car and using a collapsible travel bowl to give your pup some water, when needed.
We're big fans of the Frisco Silicone Collapsible Travel Bowl with Carabiner at Chewy.
Don't Forget To Bring The Doggie Treats
A great way to train your dog to enjoy car rides is to give him treats whenever you take him out in the car.
Of course, if your dog gets sick on car rides, then this won't be the best idea.
Otherwise, we're big fans of Zuke's Mini Naturals Peanut Butter & Oats Recipe Training Dog Treats, which you can buy at Chewy.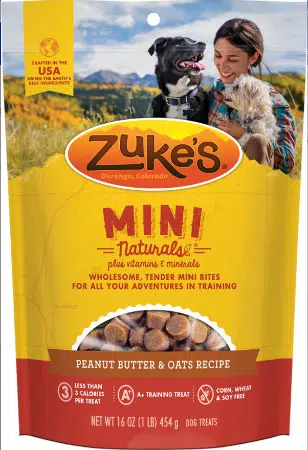 Tips For Taking Your Frenchie On A Road Trip
If you want to take your French Bulldog on a road trip, then the same tips above apply, as well as a few more.
Take Regular Breaks
You'll want to make sure that you're not keeping your Frenchie in the car too long when you're on a road trip.
Try to schedule breaks for your pup every 90 minutes so that he can get out and walk around.
You'll also want to use the breaks as a chance to try to get him to go to the bathroom.
Bring His Regular Dog Food
A road trip away from home is no time to change what you're feeding your Frenchie.
It could end up making him sick, which you do not want happening in the car while you're traveling.
So, make sure that you have room to pack his regular food, or check to see if you can buy it along the way and at your destiantion.
And try to stick to his regular feeding schedule.
Bring His Favorite Blanket From Home
Once you get to your pet-friendly hotel or holiday home, the experience of being in a new place may make your Frenchie anxious.
A good way to comfort your French Bulldog when away from home is to have his favorite blanket with you.
This will give him the scents and comforts of home, which you will be thankful for when we sleeps through the night instead of excitedly staying up or being restless.
Final Word
Most French Bulldogs like car rides, and if your Frenchie is anxious on drives you can teach him to enjoy it.
Use our tips above to keep your Frenchie safe and happy on drives and long road trips in the car.